Cold-formed steel sections Warszawa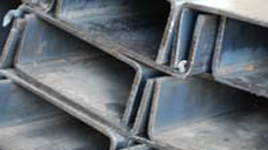 Building steel halls or buildings requires using durable metallurgical materials. Cold-formed angle bars and channel sections (U-sections) are one of the widely used profiles in the construction industry. Due to their properties, such sections are mainly used in building walls and roofs and storage and production hall construction.
Cold-formed steel sections are available in various models, including angle sections, channel sections, and closed steel sections. These prefabricated elements significantly facilitate construction works and their time management.
Steel channel U-sections
Shape-wise, there are various prefabricated steel sections, e.g., channel sections or closed steel sections. Differing in shape and technical purpose, they affect the quality and durability of a structure. Channel sections resemble the letter C, while closed steel sections are square or rectangular pipes of various diameters.
Steel sections and their properties
All steel sections available on the market combine the same properties:
corrosion resistance,
a wide range of applications,
durability and strength,
lightness,
the ability to adapt the shape to the design intent.
In steel structures, the most important thing is the stability and durability of particular elements. Therefore, at Zystal, our offer includes only steel sections and channels of the highest quality. We know that the closed and open steel sections are essential in building roofs or buildings, so we pay special attention to ensuring that they have the appropriate technical parameters. Our offer also includes completely serviceable equal angle bars and hot-rolled steel sections. Using steel channel U-sections to strengthen or secure a structure is possible, so choosing a suitable model that fully serves its purpose is essential.
We offer only the highest quality certified products, such as angle bars, steel channels, and steel profiles that meet the required safety standards. We offer a wide range of products to ensure our clients find closed steel sections of various specifications and parameters. As a result, they will meet the design intent of a given structure. All the channel sections we offer, despite their lightness, have high durability and corrosion resistance, meaning that even after many years, they will not lose their original properties. We ensure the continuity of deliveries, thanks to which our stock levels keep fulfilling the customer needs and orders on an ongoing basis, even for large quantities.
We offer U-sections and closed steel sections of the highest quality as an independent steel supplier. With our own machinery park, we can cut cold-formed angle bars to the dimensions required by the customer. Our wholesale facility is located in the city of Warsaw.
We look forward to working with you!