Gate accessories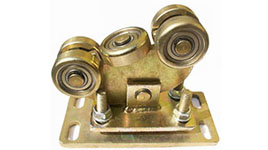 Gates play an essential role in securing objects and enabling free movement around the site. Therefore it is necessary to ensure their solid structure. We realize how important it is to deliver metallurgical prefabricates of the highest quality. As an experienced supplier of steel elements, we offer only the best gate accessories available. Our steel warehouse is located in the Warsaw metropolitan area. However, we also carry out orders meant for other locations to provide customers with gate accessories regardless of the distance from Warsaw.
Roller carriages and guide rollers
All elements must work closely together in the gate structure, ensuring the convenience of using the gate and its stable position.
In this case, roller carriages play an essential role, enabling the smooth sliding of the gate's leaf. Thanks to compatible guide rollers, this operation is effortless. Our roller carriages are available in many variants because we know that to make sure the gate works smoothly, it is necessary to choose compatible door structures and parameters. Also, it is crucial to consider the gate's size and weight so that the roller carriages become an integral of the structure. We also offer corresponding guide rollers and other essential gate accessories to ensure the gate works flawlessly.
Gate hinges
A working leaf gate requires purchasing accessories that will ensure the stability of the structure and enable easy opening of the gate door. There are gate hinges designed to ensure that the gate opens smoothly and remains stable within the frame. Our gate accessories come from leading manufacturers. It is easy to find all the necessary compatible elements as we offer a large variety of products.
Gate accessories
For the gate to operate flawlessly, choosing the highest quality gate accessories is crucial. All individual parts must work closely together so that the door will work for a long time. Correctly matched gate accessories ensure the gate's security and maximum functionality. Also, they make a gate convenient to use and expand its life cycle.
We have a wide range of necessary structural elements for gates, roofs, and buildings, such as stirrups, square bars, closed steel sections, steel tees and sections, and other steel products used in many industries.