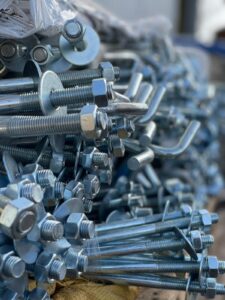 Wire anchors Warsaw
Assembling particular structural elements necessitates solid mounting, so various pins and wire anchors with a specific size, shape, or technical parameters are used.
Due to their properties, wire anchors are suitable for minor repairs and heavy construction works. Our warehouse offers various types of steel fasteners and brackets. Our clients can find us in the city of Warsaw.
Wire anchors and their advantages
Currently, the market offers a wide range of fasteners suitable for installation in brick, block, and other building materials. Wire anchors remain a universal structural supporting element thanks to their technical specifications. They ensure the stability and compatibility of individual steel products. In addition to anchors, equal angle bars play an essential role in mounting or fastening; they have remained an inseparable element of every structure.
It is easy to install wire anchors as they do not require any special additional devices. Also, they are available at affordable prices, and there is a wide selection of sizes and types that works well with any structure.
Our customers receive professional advice when selecting individual metallurgical products so that they have specific technical parameters. In our warehouse, you will get wire anchors that meet the necessary standards to ensure the safety and stability of the structure.
Types:
Φ12mm x 300mm, 12mm x 350mm, 12mm x 400mm, 12mm x 450mm
Φ14mm x 350mm, 14mm x 400mm, 14mm x 450mm, 14mm x 500mm fi 16mm x 350mm
Φ16mm x 400mm, 16mm x 450mm, 16mm x 500mm